Note: This tutorial assumes you already have a saved Template from which to create your Campaign.
A Template is the basic design framework that will remain the same from mailing to mailing.
A Campaign is a one-time email, which you can create from a Template or from scratch.
__________
Once upon a time, someone talked you into moving your email list from Feedburner to MailChimp. There are all kinds of good reasons to do that (but that's not what this post is about). And maybe that person set up a template for you that you use, but you want to make some changes and you don't know how. This tutorial will show you how to update your MailChimp Campaign from a saved Template.
With your Template design already in place, you can easily prepare your next MailChimp email Campaign for mailing. Follow these steps:
1. Log in to your MailChimp account.
2. From the main dashboard, choose Campaigns.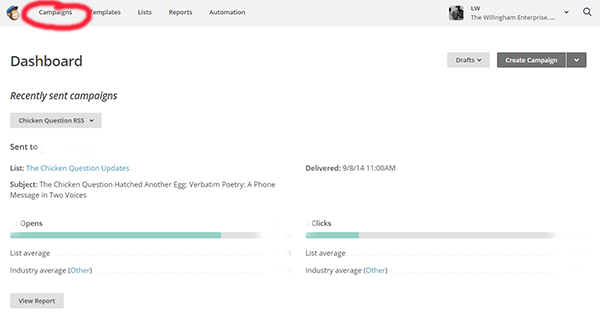 3. From the Campaign screen, click on Create Campaign.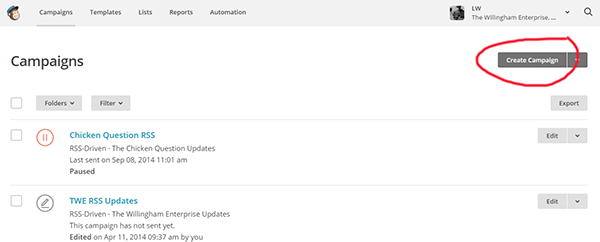 4. Most often, you'll choose Regular ol' Campaign by clicking Select. (Don't take it personally; it doesn't mean your campaign is not exciting.)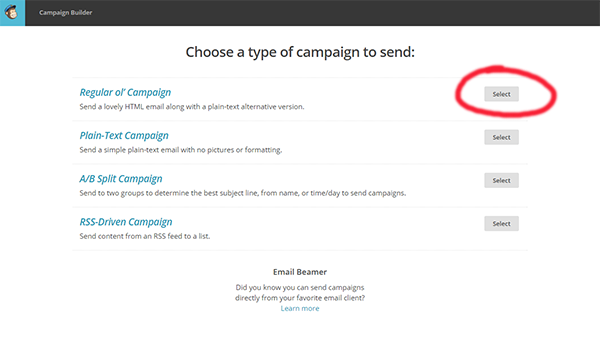 5. Select the list you wish to send your Campaign to, then click Next in the lower right.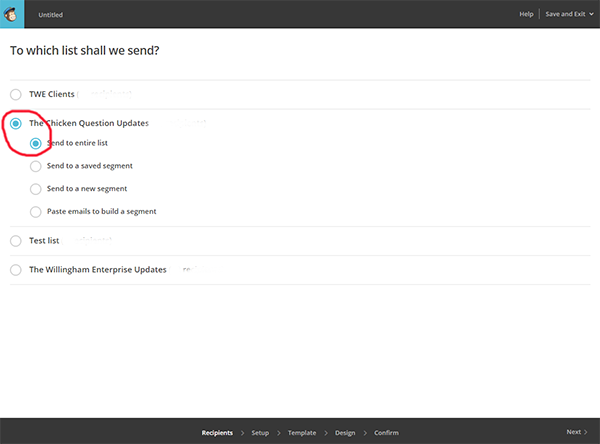 6. Complete the Campaign Info fields and click Next in the lower right.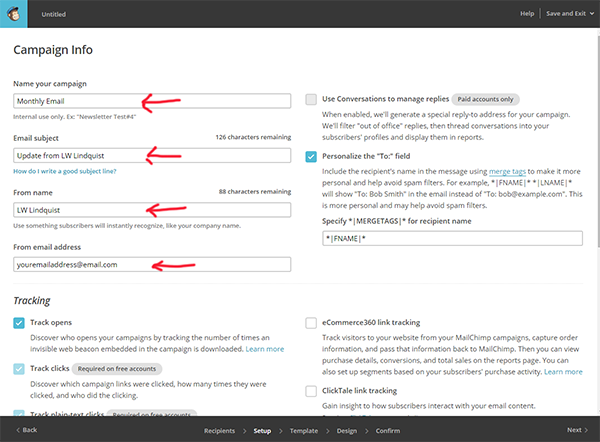 7. On the Select a Template screen, choose Saved Templates, then choose the Template you wish to use. (You could also choose a pre-designed template from the Themes tab.)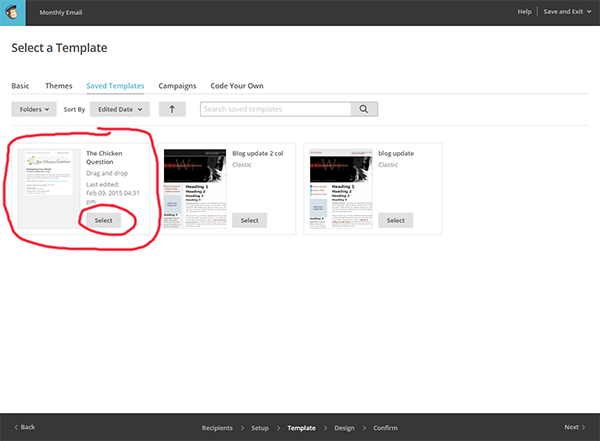 8. The template is made up of various types of content blocks.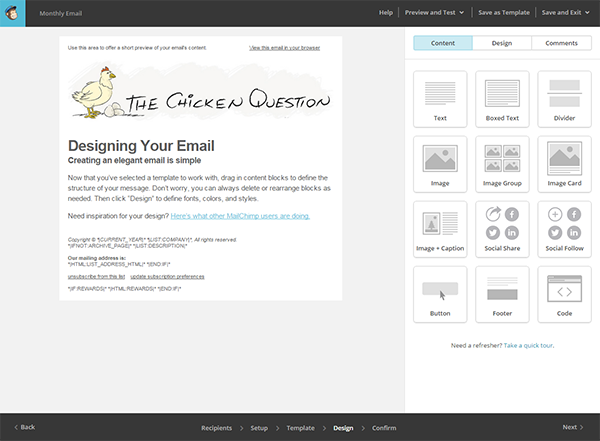 9. Place your mouse over the content block you wish to modify and click on the Edit button (pencil icon).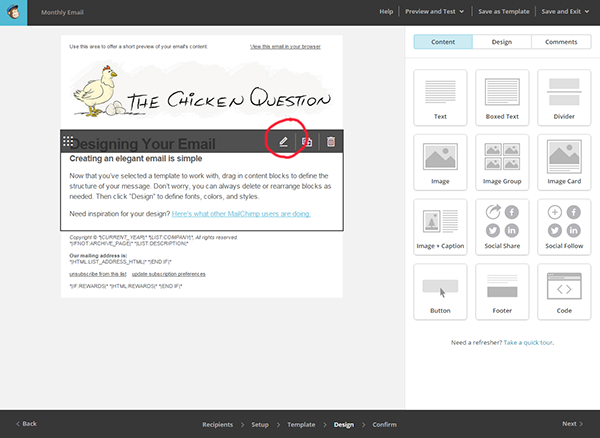 9. Edit your text in the editing window to the right. Use the Content tab to create your content, and the Style and Settings tabs to format it.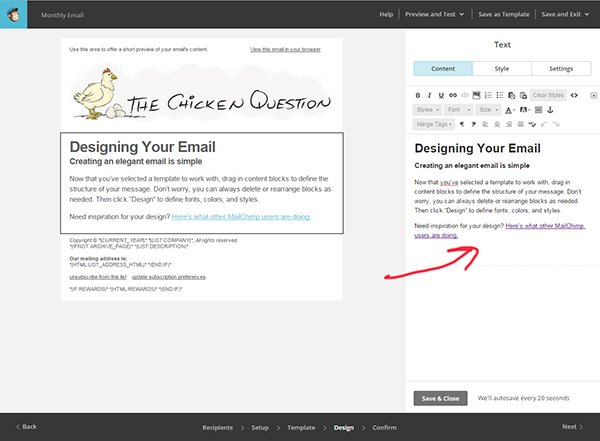 10. Drag other content blocks into your template as needed for photos, social media items, additional text buttons, etc., that are not already in your template. In the screenshot, we're adding a photo and caption, which you can see in the next screenshot below.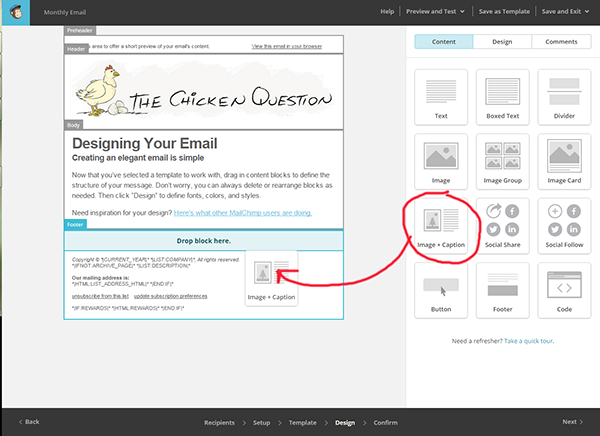 11. Click Preview and Test, then choose either Preview Mode to see the email on your browser or Send a Test to send a test email to yourself to see what your completed email will look like to your recipients. Once you are happy with your campaign, click Confirm at the bottom of the screen.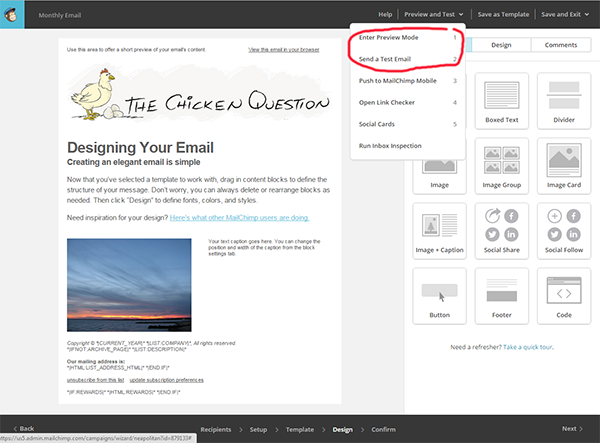 12. Complete any final edits to your Campaign set-up, then click Schedule to have your Campaign sent at a designated time or Send  to send it out immediately.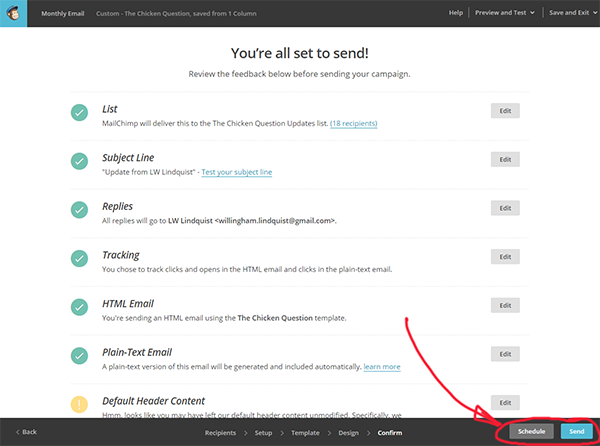 13. If you choose to schedule your Campaign, set the date and time and click Schedule Campaign.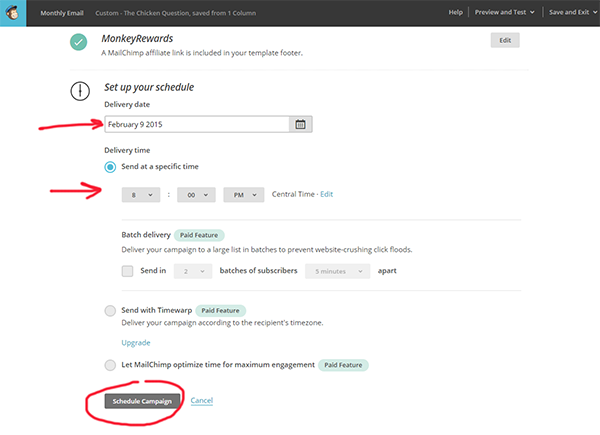 Anything you can fit into one of the content blocks, you can add to your newsletter or email message. Just drag and drop, edit, style, and save.
Questions? Something not working quite like it should? Ask me in the comments and I'll be glad to help.