Diana asked me this morning to show her how to upload a blog button to her WordPress site. It's a fairly simple process, if you know where to start. So I pulled together this quick screencast tutorial to show you how you can add a blog button your site.
For our example, we're adding Tweetspeak Poetry's button for its Tugboat campaign supporters. Or,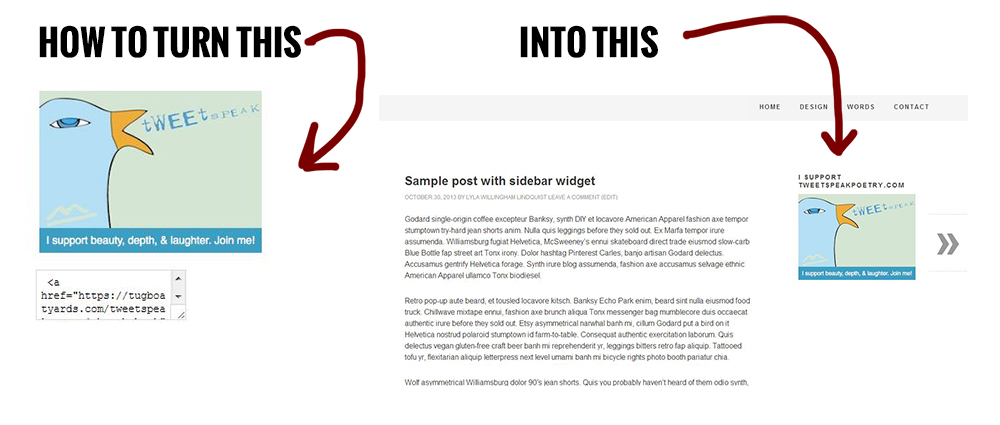 You can find the step-by-step instructions to add a blog button to your site below the video.
How to Add a Blog Button to Your Site
1. Open your WordPress Dashboard.
2. On the left side menu, hover your mouse over Appearance, the click on Widgets.
3. On the right side of your Widgets screen, open the widget area in which you wish to display your button graphic.
4. Locate the Text widget in the Available Widgets area and drag it to your open widget space.
4. In a separate browser window or tab, go to the site where the "Grab My Button" image and code are hosted.
5. Select and copy the button code under the button image.
6. Return to your dashboard and paste the code into the Text widget. Add a title if you wish.
7. Click Save.
8. Refresh the screen on your site to see the button displayed.
9. Pat yourself on the back. You did it!
Leave a message in the comments if you have a question or some part of the tutorial is not working for you.
________________
Want to learn how to create the button in the first place? We have a tutorial for that, too.