Ever wonder how everybody but you gets to have a cool button on their sidebar, with a little snippet of code so other bloggers can feature it on their sites?
I've heard people say that trying to create a blog button or badge for their sidebar was enough to make their heads pop off. But with so many blogs featuring them, they can't be that hard, right?
Well, no. Blog buttons don't have to be that hard.
Allow me to rescue you.
5 simple steps to make a blog button
1. Design your button
Use an image editor on your computer, or perhaps even easier, design your button at picmonkey.com. (And even easier than that? You can hire me to design your button for you.) I recommend not making it larger than 200 pixels wide so it fits well in sidebars. Save your image as a .jpg or .png. For our example here, I'm using my Twinkie the Kid.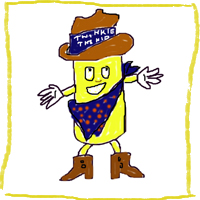 2. Upload the button
Upload the image to your blog, Flickr, Photobucket or anywhere else you can host the image so that it is accessible by a url. I uploaded Twinkie the Kid to Flickr. Not sure where to upload it to? Ask yourself where you upload photos that you include in your blog posts. That would be a great place to start.
3. Use this great "Grab My Button" Code Generator
It's possible you could lose your mind trying to figure out where to copy and paste different snippets of code to make your button work. You don't need to. Just use this code generator and let it do the thinking for you. Fill in the blanks with your information as shown in my example screen shot.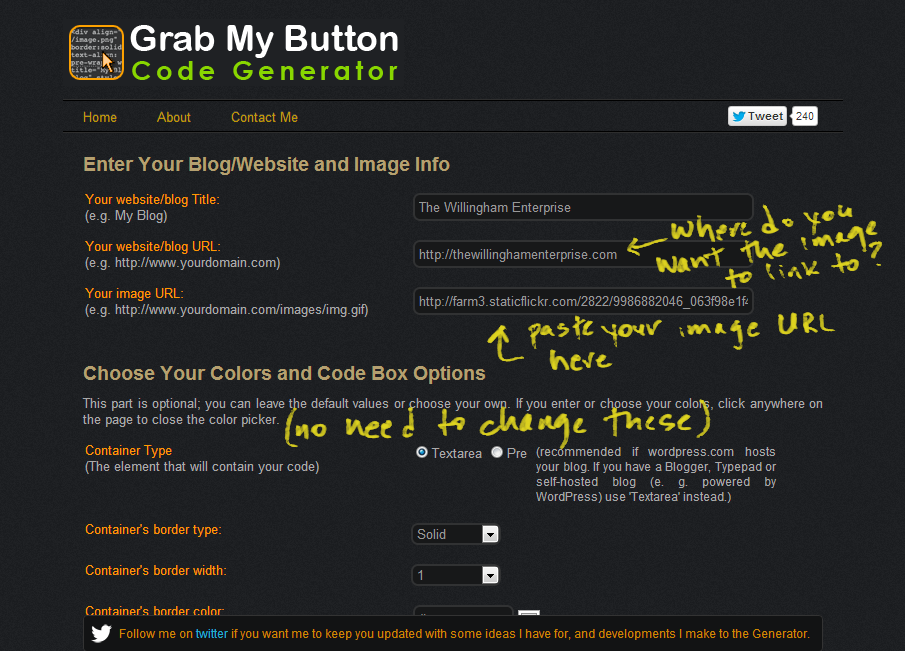 4. Copy and paste the code into your blog post or a text widget in your sidebar or footer
Preview the button to make sure it all looks right. You should see your image and a text box below it with a bunch of code you don't want to understand. Then copy the code from the black box and paste it into your blog post or a text widget in your sidebar or footer.

If you're using WordPress, you'll want to drag a text widget to the sidebar or footer on your Widgets page: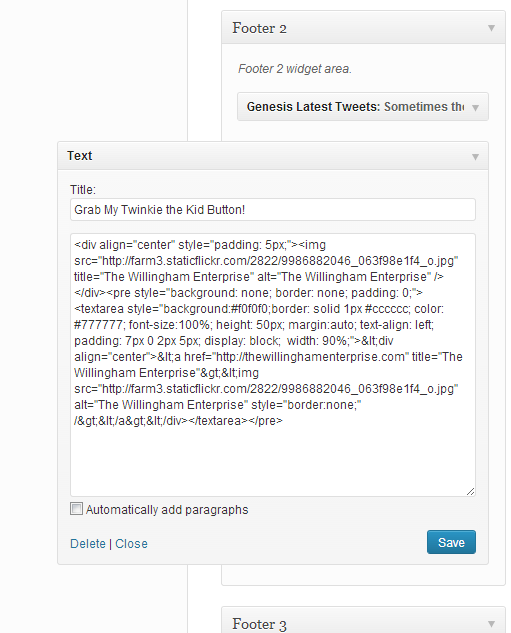 5. Save and preview the page
When you're done, it should look something like this: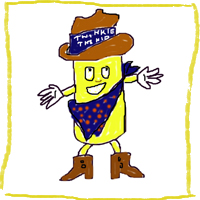 And you still have your sanity. Questions? Let me know in the comments and I'll do my best to help.
Get stuck on Step 1? I can design a blog button for you to feature on your site. Contact me for more information.